What is the future of recycling and how can the new AI-integrated Bee'ah Headquarters, designed by Zaha Hadid architects, set a blueprint for smart and sustainable cities of the future? This week we interviewed H.E. Khaled Al Huraimel, Group Chief Executive Officer at Bee'ah.
Can you tell us how and why Bee'ah was started?
Bee'ah was founded in 2007 as a public-private partnership, with the goal of positioning Sharjah as the environmental capital of the Middle East and making it the first city in the Middle East to achieve zero-waste to landfill.
Since then, Bee'ah has grown into a business with a workforce of over 7,000 who work passionately to make a change in the region. Founded on the twin pillars of sustainability and digitalisation, Bee'ah has reached 76 percent waste diversion from landfill rate in the Emirate of Sharjah, due to our innovative waste management solutions and recycling facilities. We will close this gap next year to achieve 100 percent waste diversion from landfills, when we launch the UAE's first waste-to-energy plant at our waste management complex in Sharjah.
Our purpose is to promote a more sustainable quality of life, beyond waste management. As such, Bee'ah has several ventures across industries ranging from waste management to environmental consulting, renewable energy, technology, sustainable transportation, training and development.
You recently moved to a new headquarters, how did the design come about and why, how did you choose Zaha Hadid as the winning bid?
We wanted our headquarters to be a manifestation of Bee'ah's two critical pillars: sustainability and digitalisation. Zaha Hadid Architects (ZHA) were chosen after a 2013 international competition because they presented innovative ideas that fitted with our values.
Since then, ZHA has worked in collaboration with Bee'ah's Civil and Architecture Projects team to develop the building up to expectations. On completion, Bee'ah's headquarters is expected to achieve the U.S. Green Building Council's LEED Platinum certification, setting a new benchmark for green buildings in the UAE. Through a partnership with Johnsons Control, Microsoft and EVOTEQ, the headquarters will also be a fully AI-integrated office of the future.
Can you talk me through the sustainable features of the building (energy, building materials, water/electricity consumption, landscaping etc)?
Every aspect of the HQ is being designed with sustainability principles in mind. The design was inspired by the form of sand dunes to blend into the natural desert landscape. The materials used for construction include recycled concrete aggregate, recycled steel, low volatile organic compound, and glass-reinforced concrete to refract solar rays. In the lobby, we use slab cooling and glass cooling to regulate the desert heat conditions.
The building also has a greywater recycling system, smart waste management, and there will be 90 percent efficiency across all mechanical, electrical and plumbing systems. We will also use water-efficient landscaping with regional plants, water-efficient fixtures, LED lights, and energy efficient air-conditioning. Bee'ah's new headquarters will also be a net-zero energy building, utilising an onsite solar farm with excess energy stored on Tesla Powerpack batteries.
How important was it to keep to the vernacular of the desert landscape in the design?
One of the most striking aspects of the original Zaha Hadid Architects proposal was how the building represents sand dunes, and seamlessly blends in with its desert environment. It is also oriented to optimise prevailing winds. Merging form with function, the design provides natural daylight within the interiors while reducing exposure to the glare of the sun. The exterior also reflects the sun's rays to reduce energy consumption. Our landscaping uses native plants that are drought-tolerant, requiring less water consumption.
Can the building be retrofitted to keep up the high standards of efficiency, when perhaps new technologies are available?
As mentioned earlier, the headquarters will be the first fully AI-integrated office of the future in the Middle East. Through the use of advanced technology, we are able to realise new efficiencies, energy and resource optimization and employee happiness.
There are hundreds of AI use cases in the headquarters, including a Smart Facility Management system to optimise electricity consumption and conduct predictive maintenance. The building itself has self-healing capabilities by taking autonomous decisions to remedy faults and compensate by adjusting adjacent equipment.
Bee'ah's headquarters also has a Digital Twin, which is a 3D representation of all mechanical, electrical and plumbing systems of the building. This shows the consumption rates of each piece of equipment and provides future energy forecasts. In this way, the building itself will learn during the first six months of operations to predict occupancy and resource consumption trends, and will adjust itself accordingly for the next six months.
The project has set a benchmark for all future green construction in the region, what do you think we can learn from this building i.e. can the features be replicated in other buildings?
Our goal was to reimagine the potential of green buildings and technology-aided office environments. Bee'ah's new headquarters will be the smartest and greenest building in the region, setting a blueprint for smart and sustainable cities of the future.
The headquarters also has various use cases that will inform the future of architecture in a post-COVID-19 environment. For instance, employees will navigate through the building through contactless pathways. Employees can order coffee and food, or even control elevators through a tap on their mobile phones. The building was designed for limited contact with surfaces, with a personalized platform for employees and visitors to talk to an AI concierge for virtual assistance.
Focusing on recycling now, what are the future goals of Bee'ah in terms of capacity, how much is currently recycled, can be recycled and how much of these materials can be put back into circulation?
Bee'ah is a fully integrated waste management company in the Middle East, managing three million tonnes of waste annually in the UAE alone. The collected waste is transferred to waste sorting and treatment facilities, and then to our recycling facilities. The residual nonrecyclable waste will be sent to our first waste-to-energy facility to generate electricity. Our business ventures cover the entire waste cycle from start to finish, to achieve zero-waste targets.
We use a smart and eco-friendly fleet of over 1,200 vehicles, which are integrated on our innovative WastePro+ digital solution, to streamline operations, reduce manpower hours and energy consumption, while providing a real-time overview of waste and recyclable streams.
At our Waste Management Complex, we have multiple facilities to recover valuable resources that can be reintroduced back into the economy. These facilities include our Material Recovery Facility, Tyre Recycling Facility, Construction & Demolition Waste Recycling Facility, Car & Metal Shredding & Recycling Facility, and our latest project – the Industrial Waste Water Treatment Plant which was launched in May 2019 to treat 300m³ of wastewater daily of industrial-contaminated water and produce clean water that can be returned to the water cycle, with minimal impact on the environment.
To continuously improve our performance, Bee'ah is also in the process of building new recycling and waste treatment facilities. We also believe in the power of co-creation through partnerships and have recently formed a joint venture with Italian company Ambienthesis to form B&A Industrial to provide end-to-end integrated management of industrial and hazardous waste. There are a few other joint ventures in the pipeline for marine pollution and shipping waste management that we will announce in the near future.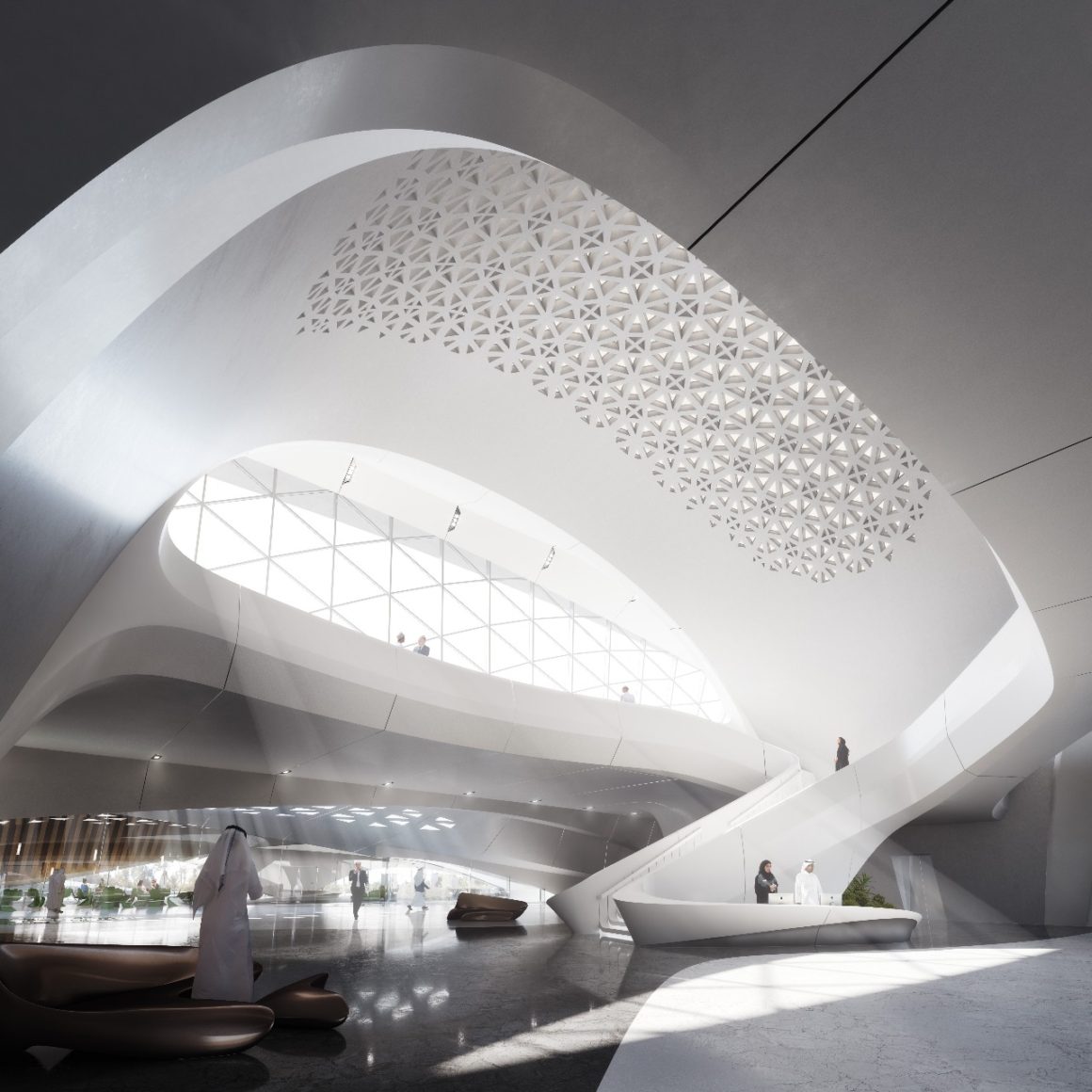 Is a closed loop/circular economy possible in the future and what needs to put in place in order to make this a reality?
A circular economy is certainly possible in the future, but it will require change on every level, from consumer and business to non-governmental organisations and government. The current economic model is an extractive industrial model of taking resources to make a product, which becomes waste when it reaches the end of its useful lifecycle. We need to move away from this unsustainable model, which values fast growth and short-term rewards at the expense of our environment and ecosystems.
We are encouraged by government-led initiatives, such as the Green Economy for Sustainable Development, the UAE Green Agenda 2015-2030 and the wider UAE Vision 2021, but there is a lot of work we must do before we get there.
In the UAE, the average person generates around 2.7 kg of waste every day – one of the highest per capita waste generation rates in the world. In the wider Middle East region, the urban waste generation rate is more than 150 million tons per annum. So, it's not enough just to recycle and divert waste from landfills – we have to think more broadly about our consumption habits – as individuals, businesses and communities.
To fulfil these objectives, there is an urgent need for the public and private sector to complement each other's efforts and find ways to reduce waste generation, treat existing waste and reduce landfill dependency. And this is why we support universities through investing in R&D efforts and business consultancy, via our Consultancy, Research and Innovation division, and the Bee'ah School for the Environment (BSOE), which educates schools and members of society on sustainable choices, recycling and more.
How far away are you from being zero waste? How is this possible?
As mentioned earlier, Bee'ah's first waste to energy plant opens next year and this will take us to 100 percent waste diversion for the Emirate of Sharjah. We partnered with Masdar to form the Emirates Waste to Energy Company, which is developing these renewable energy projects for the region. The first facility in Sharjah will process more than 300,000 tonnes of municipal solid waste each year, producing around 30 MW of energy to power up to 28,000 homes.
Earlier this year, we also won the contract to be waste management partner for the new Administrative Capital in Egypt. This city will eventually house a population of up to six million people and we have committed to achieving 80 waste diversion rate there. We have also launched our operations in Saudi Arabia, so we hope to export our technologies and solutions that have proven successful here in the UAE to the wider region.
Can you tell us about The Bee'ah School of Environment, and the importance of environmental education to develop a greener future generation?
The Bee'ah School of Environment encourages environmentally friendly behaviour in the younger generation through partnerships with schools, teachers and parents. We have reached over 250,000 students from nursery to Grade 12 in 500 schools and 6,000 teachers across the UAE. Bee'ah has also incentivized community recycling through a CSR initiative, Bee'ah Rewards, where community members are encouraged to recycle their aluminium cans and plastic bottles through Reverse Vending Machines which can be found around the UAE. And we conduct a door-to-door residential awareness programme, distributing green and blue bins and awareness kits to encourage recycling within households.
During COVID-19, BSOE also launched the website ForABetterTomorrow.ae with information and education for everyone related to COVID-19, health and safety tips, fun activities to do while at home, informative animation cartoons for children and more.
What does the future look like, what excites you about it and what worries you about it?
I am optimistic about the future, even with the challenges we have faced this year with COVID-19. This crisis has been an opportunity for real change to happen. We have seen more collective action taking place to tackle the COVID-19 crisis, and this is heartening because it suggests that we can band together to work towards the longer-term challenge of climate change. As countries around the world launch stimulus measures and packages, there has also been a renewed focus on green infrastructure investments as a means of boosting economic activity.
Here in the UAE, I am confident that the targets already laid out by the government will give us the framework to move forward with confidence and purpose. We have proved that we can overcome great challenges when we have the will to do so.
[cmsms_divider type="solid" margin_top="50″ margin_bottom="50″ animation_delay="0″]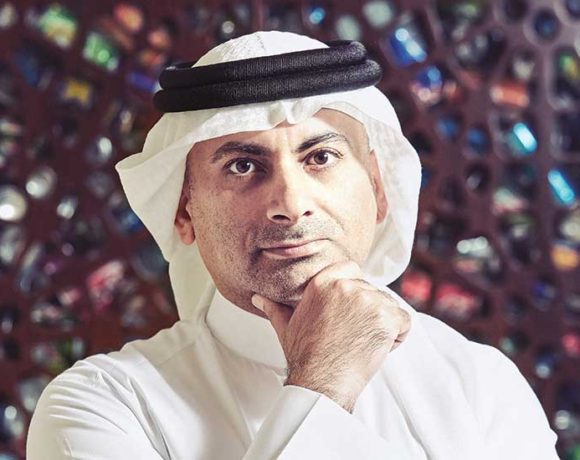 Khaled Al Huraimel is the Group CEO of Bee'ah, and has served in this capacity since August 2009.
Under his leadership, Bee'ah has transformed from a waste management company to a sustainability pioneer which is setting new benchmarks for quality of life across the MENA region. Al Huraimel has been the driving force behind Bee'ah's vision for the future, facilitating the achievement of several remarkable milestones, such as building the first waste-to-energy plant in the Middle East through the Emirates Waste to Energy Company, a joint venture with Masdar. He has established ION, the first sustainable transport company in the UAE; and founded Evoteq to lead digital transformation through the creation of disruptive, technological platforms.
Taking the helm when Bee'ah was in the preliminary stages of pursuing a zero-waste ambition, Al Huraimel enforced this ambition and took it even further. He implemented state-of-the-art solutions and a unique approach to a circular economy, supporting Bee'ah to establish the UAE's first fully integrated waste management complex, and achieve the highest waste diversion rates in the Middle East region.
From improving the quality of natural resources like air and water, to executing awareness initiatives for communities, Bee'ah took a holistic approach to environmental management under Al Huraimel's stewardship.