Within the framework of the Year of Sustainability, the UAE Net Zero Strategy by 2050, the UAE's goal of planting 100 million mangroves by 2030,  and the UAE's hosting of COP28, Goumbook and Ajman Municipality join forces to plant over 500,000 mangroves.
In a significant stride towards a more sustainable future, Goumbook officially partnered with the Ajman Municipality and Planning Department to undertake a groundbreaking mangrove rehabilitation and afforestation project in Ajman's Al Zorah Reserve. 
The momentous Memorandum of Understanding was sealed on the 30th of August,  in a ceremony attended by esteemed officials from both sides. His Excellency Abdulrahman Muhammad Al Nuaimi, Director General of the Ajman Municipality and Planning Department, signed on behalf of the Municipality, while Tatiana Antonelli Abella, Founder and Managing Director of Goumbook, represented the company. 
Highlighting the department's commitment to enhancing the Emirate's green spaces, His Excellency Abdulrahman Al Nuaimi emphasized the importance of creating a city known for its nature, beauty, and sustainable development. He underlined the significance of preserving the country's identity through projects that expand cooperation with leading environmental and sustainability companies.
Tatiana Antonelli Abella expressed her appreciation and conveyed Goumbook's commitment to biodiversity, nature-based solutions, and climate action: "We are honoured to work with Ajman Municipality to bring this ambitious project to life. Our efforts reflect our commitment to enhancing biodiversity, nature-based solutions and climate action to transform an essential habitat for mangrove trees and unlocking their powerful benefits for climate, biodiversity, people and the economy.''
The project will provide a unique platform for the development of innovative solutions for land rehabilitation in coastal areas, raising awareness on the importance of mangrove ecosystems while strengthening Ajman's position as a sustainable tourism destination as well as a research and innovation centre for mangrove conservation. At the same time, the partnership signifies a shared commitment to biodiversity preservation, active engagement of relevant authorities in safeguarding natural heritage, community empowerment, and job creation.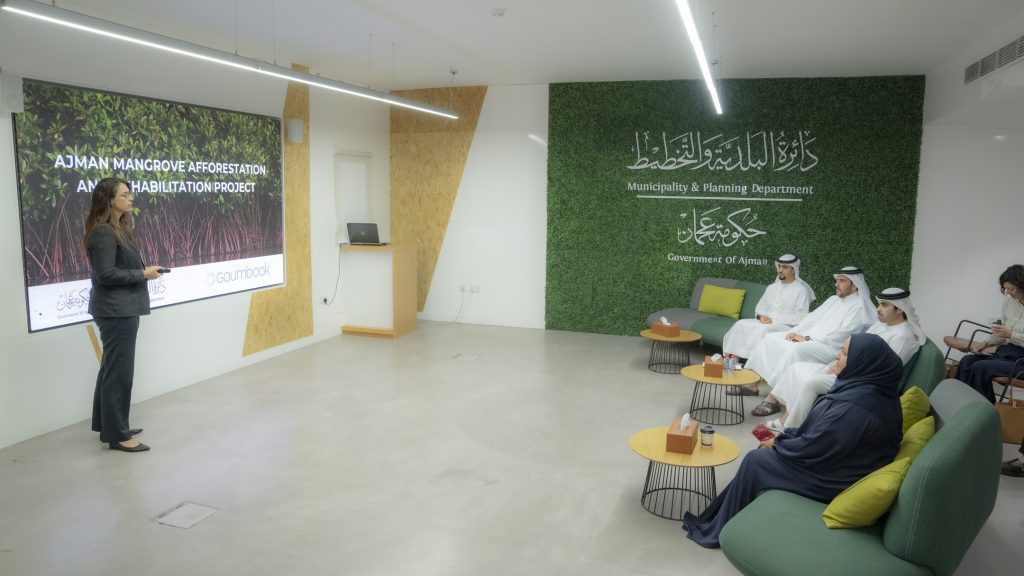 This partnership aims at supporting Goal 13 of the United Nations Sustainable Development Goals 'Climate Action', and also supports national initiatives including the UAE Net Zero by 2050 climate neutrality strategic initiative, which aligns with the UAE's goal of planting 100 million mangroves by 2030. 
Efforts to restore mangroves in the UAE date back to the 1970s, when the Founder of the Nation, the late Sheikh Zayed, launched an extensive afforestation programme to plant mangroves on the country's beaches. Back in 2020, the "Mangrove Carbon Sequestration Pilot Study" was carried out by the Environment Agency Abu Dhabi to assess soil carbon sequestration rates in mangrove forests in the UAE, revealing their ability to store carbon at a rate of 0.5 tons per hectare per year, equivalent to one tonne of carbon for every 5,000 mangrove trees. 
In December 2022, Goumbook joined the National Sequestration Program under the Ministry of Climate Change and Environment, promoting nature-based solutions and working alongside the Private Sector to reduce the effects and adapt to climate change. Nature-based solutions, including those involving mangroves, have the potential to supply over a third of our climate mitigation needs and build resilience to the effects of climate change.
More information about the project will be shared in the coming weeks/ months. For all entities interested in joining forces, please email us at Ask@goumbook.com