Welcome to '7 Ways To Pay It Forward', 7 questions to individuals who are making a difference in the community. Each day we will feature a different initiative with details of how you too can get involved.

As always please do share with us any other initiatives you may know of and we can add them to our growing list which will be published on the seventh day.

Be safe, give back & stay connected!


Tatiana

Bobby Kapoor & Curry4Covid

First in our series of '7 Ways to Pay it Forward', is Bobby Kapoor, Chef Partner at Cartalyst Solutions / Classic Catering Establishment who has worked in the food industry for over 25 years. He first started cooking and distributing food to labourers during Ramadan in 2015 and has continued every year since. To date they have prepared over 3 hundred thousand meals for the workers in camps. Having grown up in comfortable surroundings in the UK, Bobby felt it was his turn to give back and express his sense of gratitude for what he now has.
1/ Please can you tell me about your background, your business, when you started and why?
I grew up in various cities of India as my father was in a transferrable job. My education in an army school stood me in good stead but I also realized the challenges of not being easily accepted as a left hander, as friends and extended family seemed to think it was 'fixable' and that I was not trying hard enough. So, from a young age I learnt to stand up for myself and realise my talents and abilities, irrespective of what others thought.
Then again when I decided that kitchens were where my passion lay, I began to face resistance as this was not a widely accepted career. I am grateful that my parents supported me and I joined Oberoi school of Hotel Management.
I have had the fortune of working in over 15 countries for small and big projects, and after a bold move from the United Kingdom, life in the UAE began.
I started Cartalyst food solutions in 2012, learning the ropes of business and became an entreprenuer after 24 years learnings in the food industry.
2/ Why did you decide to start the initiative, what has the response been like so far?
My value system made me realise early on that we have to teach our children the importance of having gratitude. Being born in UK and raised in a land of plenty, I wanted to impart a life lesson to my (then) 10 year old. That is how this initiative began.
The first year, in 2015, we gave food in DIP on her 10th birthday and now she is almost 16. Over the past 5 years we have lovingly prepared and distributed over 3 million meals to the workers and labourers in camps.
3/ Please can you explain how it works i.e. give details about the mechanics, who can get involved, what you need, what is the aim of the initiative?
This was something that started as a small initiative and has grown steadily over the years. I'm fortunate and blessed to work with an amazing team who have helped me create an efficient assembly line, which has enabled us to increase the number of meals we can make per day in an effort to support as many people as possible. Individuals and corporations gave us the support of sponsoring meals, volunteered their resources, funds and time to help us package and distribute the meals we prepare. Last year we had some angels who influenced the campaign – Chef Zahra Abdulla, Poora Ali, Nina Ali, Amy, Insy Chengappa, Husna, Zeina and so many more who kept inspiring us to do more. They started a movement which added value to almost take us to another level. But unlike before, this year, to respect and obey the laws of 'physical distancing,' volunteers will be unable to help in the preparation, packaging and distribution of meals.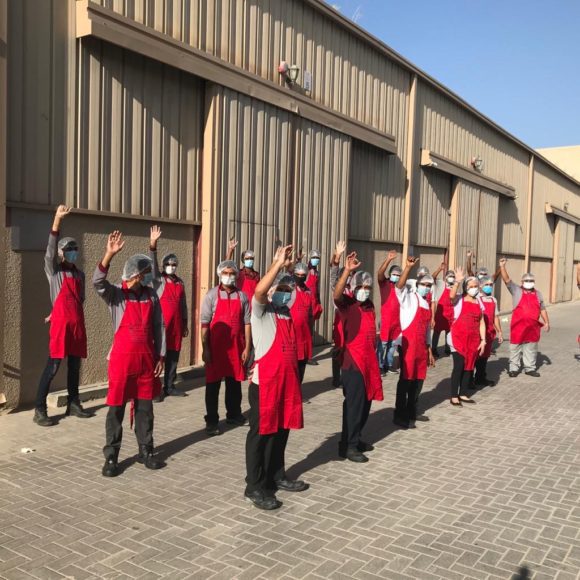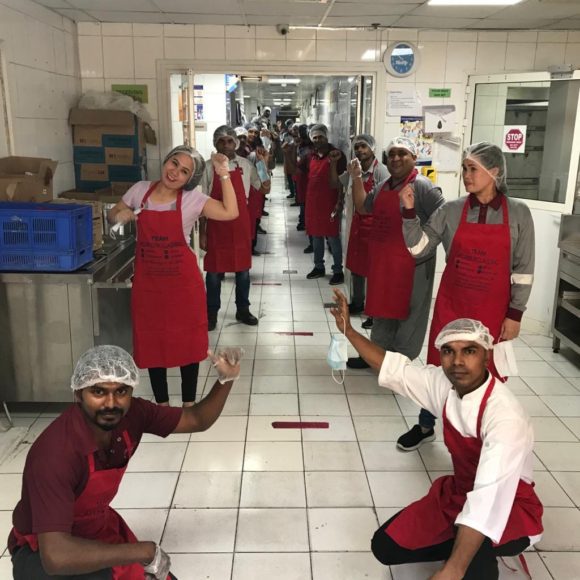 4/ What is the expected outcome, do you have a figure/goal/timeframe in mind?
With the current economic and health scenario, this year has been a challenge to get off our feet, but we started doing meals even before Ramadan started. We have begun providing healthy, packed meals to labour camps in Jebel Ali and DIP, finding ways to support government initiatives by providing healthy, nutritious meals to needy people in quarantine. As this socially conscious catering operation realised, why wait till tomorrow, when the need of the hour is immediate? We have joined the UAE food bank initiative to feed 10million people and let no one go hungry.
But despite our drive and positivity, we have limitations to reach our desired numbers. So we are reaching out to corporates and other like-minded leaders in the community, so that we can do at least 150.000 meals this year.
5/ What has been the biggest challenge for you during this time, as an individual and as a business owner?
Fear is the biggest challenge for my team, as we have 4 locations to deliver our meals. Naturally as well, corporations and individuals supporting us are also now having to conserve resources. But our belief in CSR is big and we will win!
6/ We talk about BC (life before COVID), what do you think life will be like AC (after COVID) personally and professionally?
As they say, our 'normal' will never be normal again. But we have to decide as individuals as societies if we want the same normal to return back to our lives, or can we take advantage of a re-think?
Life before covid on the personal front was highly routine based: school, work, social life, family time. The pattern of behaviour was clear. We had clear cut weekends and weekdays and expectations of those days was clearly defined.
On the professional front, we had a business and as managers, many of us 'managed' the day, our teams and opportunities that the day presented. The advent of COVID has made the evolution of leaders essential. To think out of the box, to be self-starters and to do more than 'just for ourselves.' 
Being a very physical person, I feel limited now, the social courtesies and warmth of a shake or a kiss on the cheek leaves a void in interactions. But there are immense positives as I can see a lot more of my children and I love it. I feel blessed and am growing to admire the people they are becoming as they have embraced this challenge of distance learning so graciously…I couldn't be prouder of them!
On the professional front, there are worries of course, but I will call them professional challenges; there are no timelines or an end in sight, so I don't know if the business will be able to sustain itself.
Unfortunately, a lot of the benefits spoken of are not applicable to small companies like us
7/ Can you tell me about some of the things you do in your daily life that are sustainable, what more can you do and has COVID made you think more sustainably?
I love to grow vegetables and I have a dream of having a hydroponic farm in my house, and will look for more options for green and sustainable ways.
I do believe now that many of us we can work from home, so businesses will need to adapt and innovate..
On the professional front, I am a strong advocate of investing in people who are open to change . At the risk of making a generalization, we as chefs find that we are fixed in our ways, so recognizing what individuals have to offer and working with people's strengths and interests becomes key.
Disclaimer: By promoting these initiatives Goumbook is not in any way profiting nor raising funds for any organisation, individual or company.
[cmsms_divider type="solid" margin_top="50″ margin_bottom="50″ animation_delay="0″]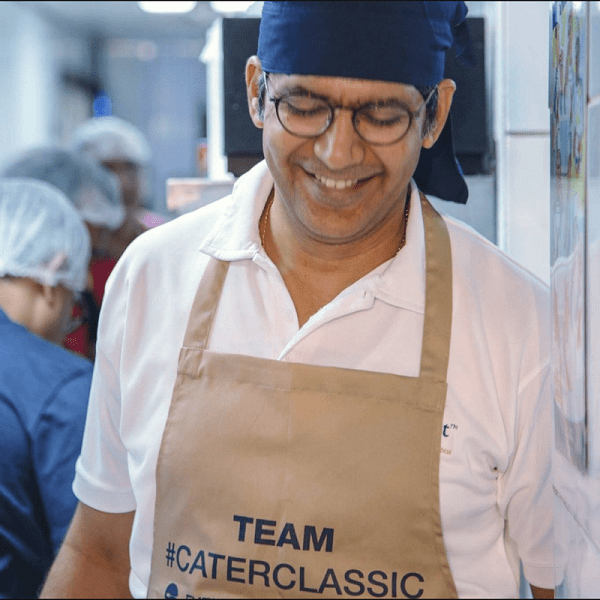 How contributions can be made:
1. Buy meals by downloading the KIDDO app on your smart device and bring smiles. On the app, look for Curry4Covid and pay on the app for the number of meals you wish to sponsor
2. Alternatively, you may email the Classic Catering team at accounts@cceuae.com. They can raise an invoice for the number of meals you would like to sponsor, and you may pay via bank transfer
For any further information, or to learn more about them please visit http://www.cceuae.com
Phone: 048812299; 0501058929 – Bobby's email: bobby@cceuae.com