The King Abdulaziz Royal Reserve has launched the first phase of its afforestation campaign in Riyadh which targets to plant a total of 500,000 seedlings. The campaign is in line with the Kingdom of Saudi Arabia's ambitious drive to combat climate change by planting 50 billion trees across the Middle East and 10 billion within Saudi Arabia alone.
The afforestation project at the reserve has kicked off with the first 100,000 seedlings while the rest will be planted in phases. The initiative is being led by the Kingdom's Special Forces for Environmental Security and the National Center for Vegetation Cover Development and Combating Desertification, according to a report by Saudi Gazette.
The natural reserve which spans a total area of 15,700 square kilometers was established in 2018 with the aim of preserving endangered plant species by cultivating them. It also seeks to reduce desertification and restore biodiversity in the Kingdom. 
Saudi Arabia has been leading several major efforts to transform the country in a bid to place the Kingdom at the forefront of green development. Saudi Crown Prince and Deputy Prime Minister His Royal Highness Mohamed bin Salman unveiled the two new initiatives in March aimed at mitigating climate change by planting 10 billion trees under the the 'Saudi Green Initiative' and 50 billion trees across the region through the 'Middle East Green Initiative'.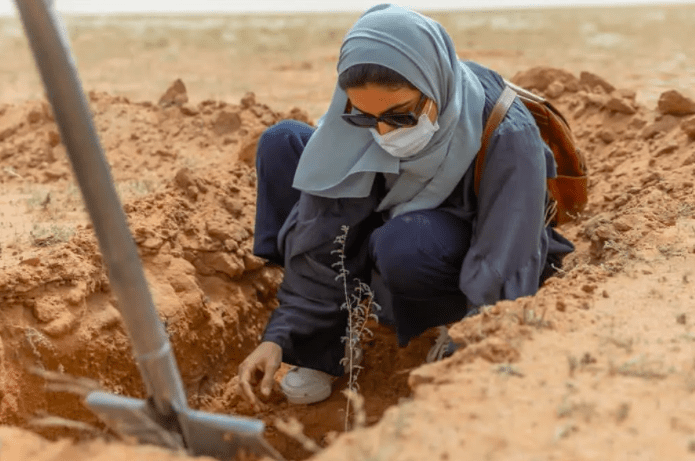 HRH the Crown Prince said: "As a leading global oil producer, the Kingdom fully recognizes its share of responsibility in advancing the fight against the climate crisis. Just as the Kingdom underpinned energy markets during the oil and gas era, it is going to become a global leader in forging a greener world."
The Kingdom plans to increase its protected areas by more than 30 per cent of the country's total land area, which is equivalent to about 600,000 square kilometers.
HRH the Crown Prince remarked: "We will work through The Saudi Green Initiative to raise vegetation cover, reduce carbon emissions, combat pollution & land degradation, and preserve marine life, this initiative will include a number of ambitious initiatives; most notably the planting of (10 billion) trees within the Kingdom in the upcoming decades, the equivalent to rehabilitating roughly (40 million) hectares of degraded lands, translating to a 12-fold increase from current tree covers, this represents the Kingdom's contribution of more than four per cent in achieving the goals of the global initiative to limit the degradation of lands and fungal habitats, and one per cent of the global target to plant one trillion trees."
Under the Saudi Green Initiative, the Kingdom targets to produce 50 per cent of KSA's electricity from renewable by 2030. It also aims to divert 94 per cent of solid waste away from landfills, and cut more 130 million tons of carbon emissions using clean hydrocarbon.